FELT ROOFING & REPAIRS
Roofing felt is a material that lies between the actual roof and the house and the final layer of roofing material. It is an added layer of protection from the elements, and a necessary layer should even one shingle be blown off of your roof in a storm. Roofing felt protects the roof, which means it ultimately protects your home. It provides a barrier between the wood sheathing on the roof and the final roofing material. Should water or snow be driven between shingles by high winds, this under layer will provide valuable protection.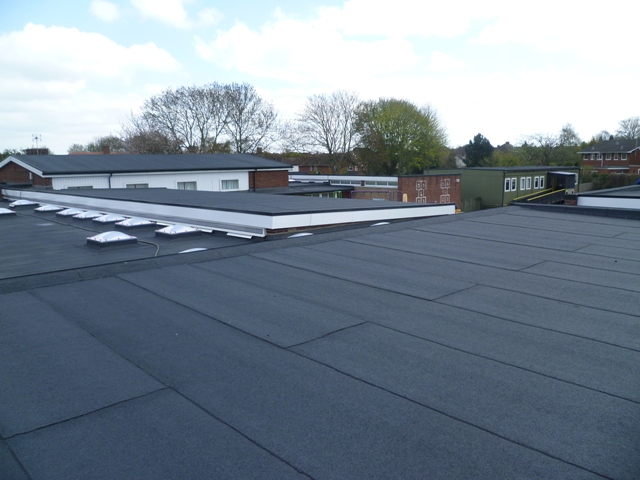 HOW WE CAN HELP
At Telnik Roofing Ltd, we have established ourselves as the felt roofing company you can rely on and this is still one of our most popular roofing systems. Whether you need to have your felt roof repaired or fully refurbished we can supply and fit a range of felt roofing products. Telnik Roofing Ltd excel in fitting, maintaining and replacing felt roofing, a tried and tested product that gives excellent waterproofing and still remains popular, particularly in domestic roofing. Our clients range from owners of domestic properties to managers of large commercial developments.
If you would like to know more about flat felt roofing & repairs please contact us
WHY CHOOSE US
Delivering first-class results every time, here at Telnik Roofing we are one of the premier names in roof installation and repair in the Aylesbury and surrounding areas. Our team of roofing specialists have over 50 years of experience between them in which time they have gained a broad skill set that ensures they are able to complete work on all kinds of roofs. We work with both domestic and commercial clients, providing us with experience of many different kinds of roofing, from flat roofs through to traditional pitched roofs.
TESTIMONIALS
Hi Nick, I would like to say thanks for the support your company has provided for the school, Can you please pass on my thanks to Pete and his team for the great work that they have done. Customer service at the highest level, once again. Thankyou. SC (Facilities Manager) Bucks School
TESTIMONIAL
Dear Lee, Thanks to you and your team for the great work done on our roof. Its pouring with rain now and we are very glad to have a new fully working gutter! Best wishes, Mrs Wilkinson, Thame.
TESTIMONIAL
Thank you for a fast and effective service. RR (SCHURTER Electronics Limited) Aylesbury