ROOF LINE
Roofline is used to describe the fascia, soffits, bargeboards, antefixes and cladding that forms the frontage immediately below the roof and the eaves of many homes and buildings. These are traditionally made from wood, but can be made of a variety of different materials, including plastic, such as polyvinyl chloride.  
Fascia: Specifically, used to describe the horizontal "fascia board" which caps the end of rafters outside a building, which can be used to hold the rain gutter. The finished surface below the fascia and rafters is called the soffit or eave. A soffit is also often installed between the ceiling and the top of wall cabinets in a kitchen, set at a 90 degree angle to the horizontal soffit which projects out from the wall.
Soffit: In popular use, soffit most often refers to the material forming a ceiling from the top of an exterior house wall to the outer edge of the roof, i.e., bridging the gap between a home's siding and the roofline, otherwise known as the eaves. When so constructed, the soffit material is typically screwed or nailed to rafters known as lookout rafters or lookouts for short. Soffit exposure profile (from wall to fascia) on a building's exterior can vary from a few centimetres (2-3 inches) to 3 feet or more, depending on construction. It can be non-ventilated, or ventilated for cooling attic space.
Gutter: A rain gutter is a narrow channel, or trough, forming the component of a roof system which collects and diverts rainwater from the roof.  The main purpose of a rain gutter is to protect a building's foundation by channeling water away from its base. They also help to reduce erosion, prevent leaks in basements and crawlspaces, protect painted surfaces by reducing exposure to water, and provide a means to collect rainwater for later use.  Rain gutters can be constructed from a variety of materials, including cast iron, lead, zinc, galvanised steel, painted steel, copper, painted aluminium, PVC (and other plastics), concrete, stone, and wood.
Water collected by a rain gutter is fed, usually via a downspout (traditionally called a leader or conductor), from the roof edge to the base of the building where it is either discharged or collected. A collection system strategy for water carried from rain gutters may include a rain barrel or a cistern. 
Bargeboard: Bargeboard is a board fastened to the projecting gables of a roof to give them strength and to mask, hide and protect the otherwise exposed end of the horizontal timbers or purlins of the roof to which they were attached.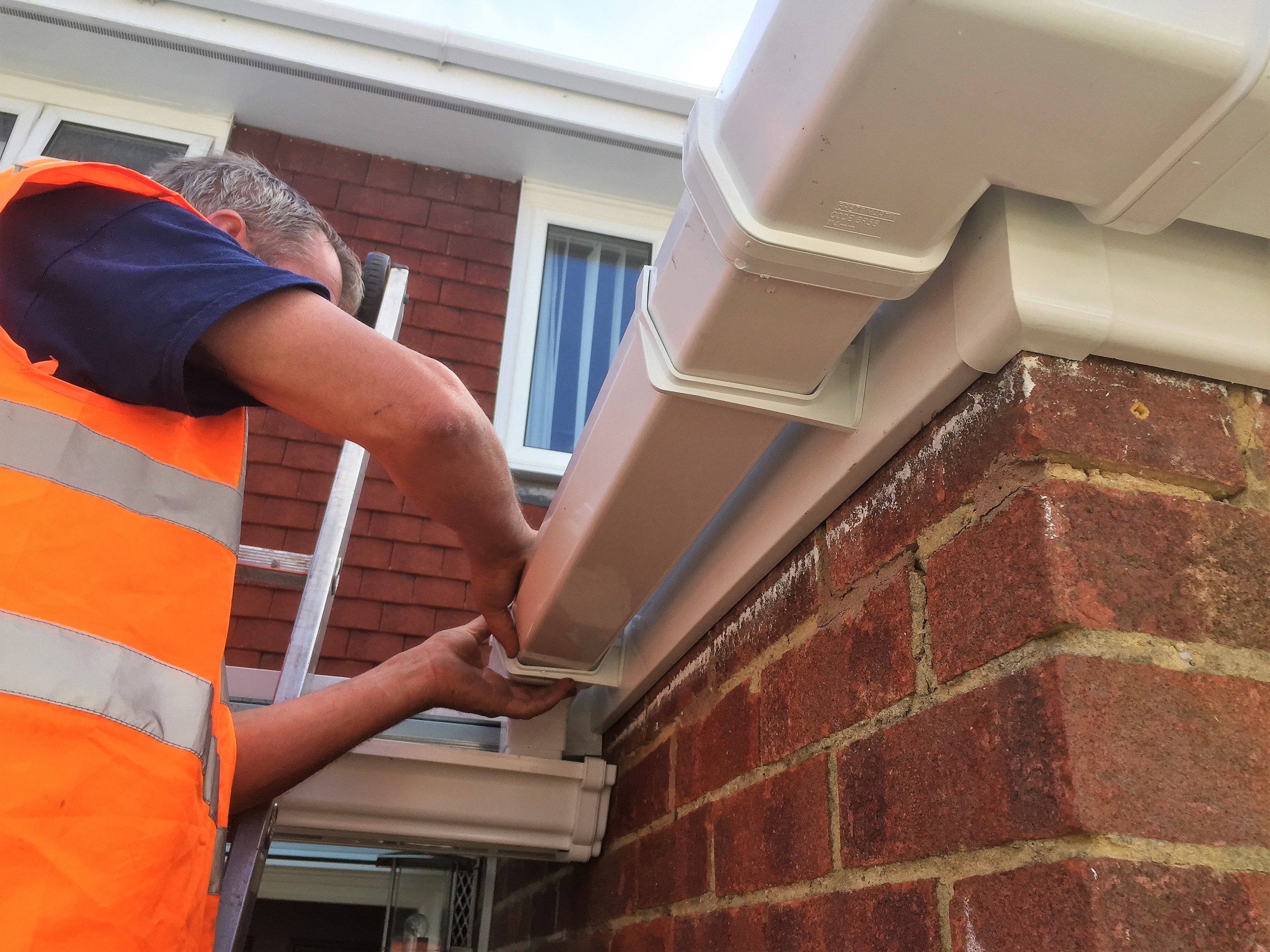 HOW WE CAN HELP
Here at Telnik Roofing Ltd, we can install, replace and repair both timber and plastic fascia, barge boards and cladding.
WHY CHOOSE US
Delivering first-class results every time, here at Telnik Roofing we are one of the premier names in roof installation and repair in the Aylesbury and surrounding areas. Our team of roofing specialists have over 50 years of experience between them in which time they have gained a broad skill set that ensures they are able to complete work on all kinds of roofs. We work with both domestic and commercial clients, providing us with experience of many different kinds of roofing, from flat roofs through to traditional pitched roofs.
TESTIMONIALS
Hi Nick, I would like to say thanks for the support your company has provided for the school, Can you please pass on my thanks to Pete and his team for the great work that they have done. Customer service at the highest level, once again. Thankyou. SC (Facilities Manager) Bucks School
TESTIMONIAL
Dear Lee, Thanks to you and your team for the great work done on our roof. Its pouring with rain now and we are very glad to have a new fully working gutter! Best wishes, Mrs Wilkinson, Thame.
TESTIMONIAL
Thank you for a fast and effective service. RR (SCHURTER Electronics Limited) Aylesbury